Mens sana in corpore sano
"healthy food in healthy pot".
 Healthy and fat-free cooking is the prerequisite for following a healthy life and is possible thanks to Olympia's high-performance products, entirely designed and made in Italy, produced with materials certified according to the strictest International laws that regulate products in contact with food; aluminum for food, coatings suitable for food contact, PFOA FREE and NICKEL FREE;
productions that respect the environment and health. 
Olympia's goal is to offer high performance cooking tools that represent Italian cuisine and are oriented to the new needs of good food, health and respect for the environment.

---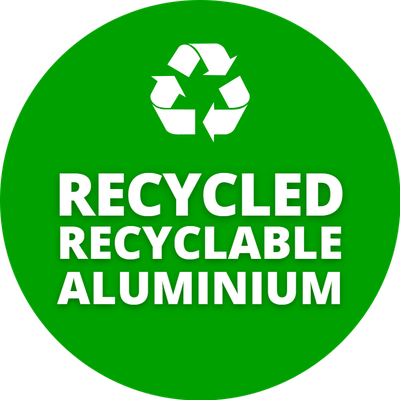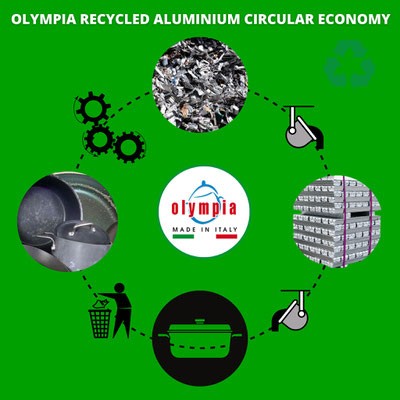 Protecting the Environment: Our Promise to Sustainability
Recycle, reuse, and reduce pollution to protect the planet and build a sustainable future.
Every day we strive to protect our planet by using recycled and recyclable raw materials. Thanks to the use of these materials, we reduce the amount of waste destined for landfills and alleviate the pressure on the natural environment. Furthermore, by promoting the use of recycled materials, we can encourage a culture of recycling and contribute to building a more sustainable future for all of us.
---
Ensuring Safety of Materials and Objects for Food Contact in Europe
The MOCA regulation is a set of guidelines established by the European Union to ensure that materials and objects that come into contact with food are safe for consumers. It mandates that all materials and objects for food contact must be safe and not harmful to human health, and sets out specific requirements for the type of material and object that can be used for food contact. Manufacturers, suppliers, and retailers must follow the established safety standards and provide detailed information about their products. The regulation helps to reduce the risk of food contamination and protect the health of consumers.
We highly prioritize the health of our customers and consumers, therefore we produce our products with strict adherence to the MOCA regulation and all laws that safeguard consumer health.
---
Our Commitment to Safer and Healthier Products
All our products are PFOA FREE, meaning they do not contain perfluorooctanoic acid (PFOA). PFOA is a synthetic chemical widely used in the production of non-stick coatings for cookware and other products. However, it has been linked to a variety of health and environmental concerns, including cancer, birth defects, and water pollution. By avoiding PFOA, we are committed to providing safer and healthier products for our customers.
---
Information on Chemicals Used in Food Contact Components and Handles
We are committed to complying with all relevant laws and regulations that apply to our products, including California's AB 1200. This law requires cookware manufacturers to disclose certain information about their products based on whether certain chemicals are intentionally added to the food contact components and handles. Starting January 1, 2024, manufacturers must identify these chemicals on the product label, and starting January 1, 2023, they must identify them on their website. Our products are safe and comply with all relevant regulations established by the Food and Drug Administration (FDA), including Title 21 of the Code of Federal Regulations that governs the safe use of product parts in direct contact with food.